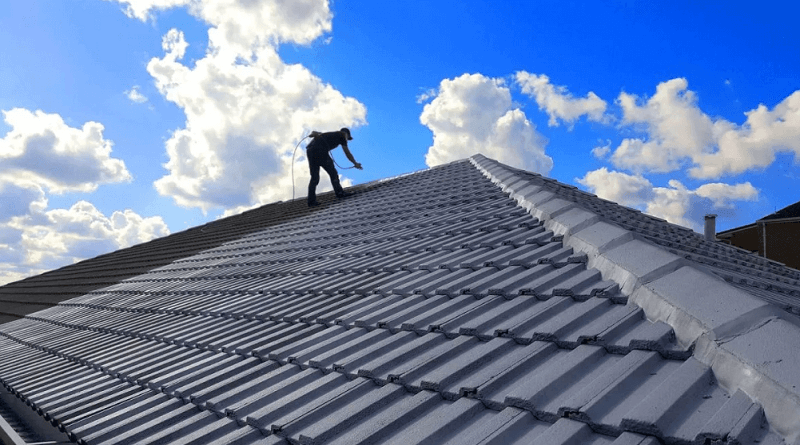 ---
Professional & Affordable Roof Painting Sydney Services
Does your house need a freshen up with a new coat of roof paint? The team at Empire Roofing can provide and complete a top quality roof painting service throughout Sydney. We provide roof painting services for tiled, metal, and Colorbond roofing.
Roof painting is a great way to give your whole house a lift. You might be surprised how much difference a newly painted roof can make to the overall look, feel, appeal, and value of your house.
If you're thinking about painting your roof, getting a professional to do it can make all the difference. How? By making sure the job is done to the highest possible standard, and that you get the best value for money out of your new-look roof.
At Empire Roofing, our expert roof painters can take care of all your roof painting Sydney needs. We'll work with you every step of the way to deliver a quality product you'll love. Don't hesitate to speak to us for a professional and affordable roof painting Sydney service.
---
Choose A New Roof Colour Or Freshen Up Your Existing Roof Colour
These days there are so many roof colours to choose from that roof painting has become one of our most popular roofing services. Many Sydney homeowners are ready to update their homes, whether it's an old heritage home or a new modern house. A fresh coat of paint does wonders for a roof.
Getting a nice new fresh colour (or a repaint of the same colour) can brighten up a home and even add value. Roof painting is so much more than just buying a tin of roof paint and sprucing up your existing roof!
Although we recommend Dulux we are able to provide a range of paints, the choice is yours! We are happy to give our opinion on which paint may suit you. We also supply a range of colour charts to make your choice easier.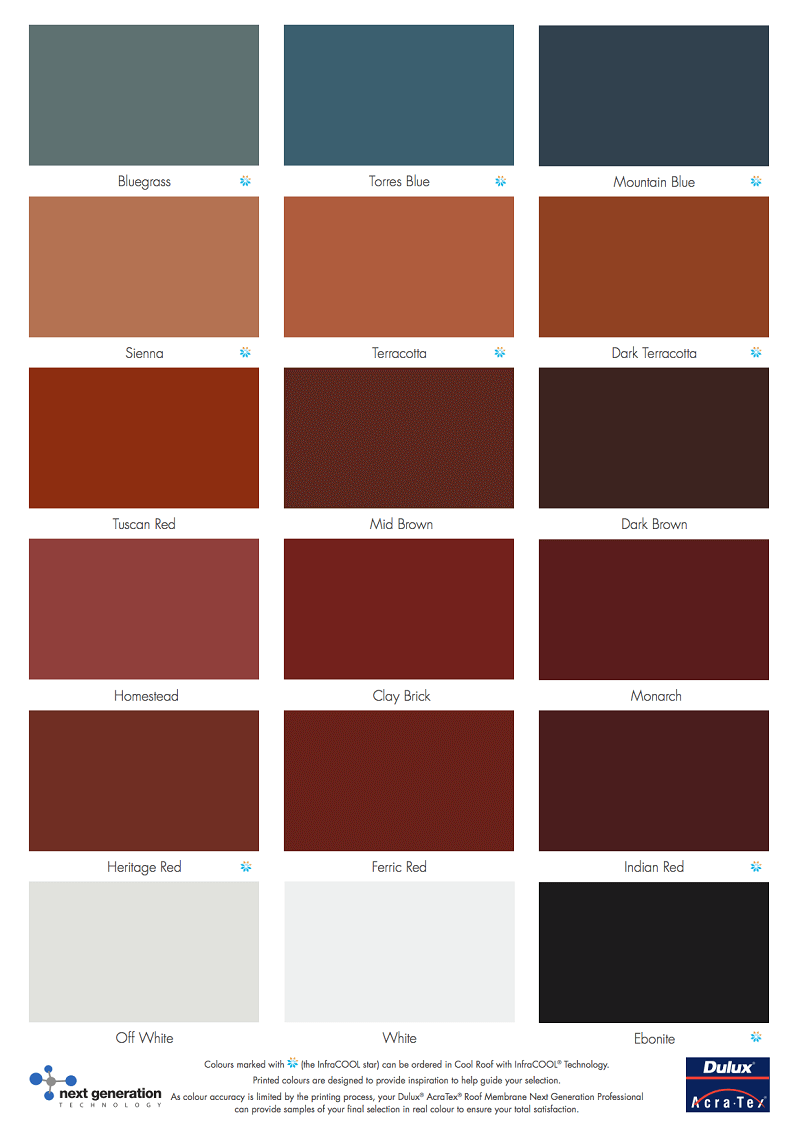 ---
What Is Our Roof Painting Sydney Process?
If you don't know very much about painting a roof, you may assume it just involves cracking open a tin of paint, grabbing a brush and going for it. But there is actually far more involved in painting a roof than just the painting part. So beware of people who quote very low prices, as you may—literally—just be getting a coat of paint!
Cleaning your roof
Before we can paint your roof, we will need to clean it with a high-pressure machine. Much like when you repaint the interior walls of your house or a piece of furniture, you always clean the surfaces first (and even do some light sanding) to ensure the best results. The same principle applies to roof painting. There's no point in painting a roof if it isn't clean first.
Repairing your roof
Sometimes you may have cracked or broken tiles on your roof—or other damage to your roof—that should be fixed before painting. After all, there's not much point trying to make your roof look new by painting it, but ignoring damage. If you're going to paint, you may as well fix your roof too and do it all in one go.
Painting your roof
We don't just use paint on your roof, we use the best roof coating product on the market, the Dulux Acra-tex Roof Membrane. It is of the highest quality and is backed by a 10-year guarantee.
---
Benefits Of A Roof Painting Sydney Service From Empire Roofing
DIY and 'home handyman' painting jobs are fine if that's what you're after, but they also end up looking like DIY-jobs, and professionals can spot them a mile away.
When you hire a specialist roof company like Empire Roofing, we make sure that:
you get the right colours (e.g. to compliment or highlight other parts of your house)
you get quality paint products that will last
you and your family are safe during the painting process
you end up with a finished product that your friends and neighbours will rave about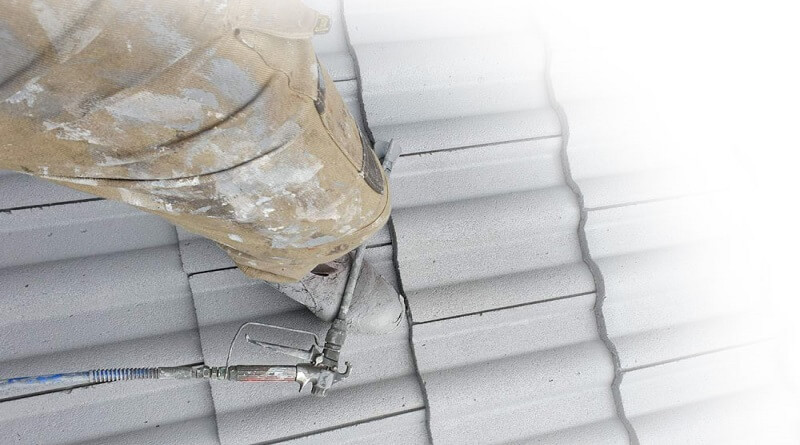 ---
What To Consider When It Comes To Roof Painting
Your roof works hard. It battles the elements 365 days a year and after years of protecting your home your roof begins to show signs of wear and tear, this is expected and a normal part of home ownership. Your roof needs to be maintained, and it is our job to ensure your roof is in tip-top shape!
Before we paint a roof, our qualified roofers need to assess your roof for any damage. Should there be no existing damage, we need to give the roof a good pressure clean to remove any debris and dirt. We often get customers who think the roof has been repainted after the pressure clean, it makes that much difference!
Once we get a nice clean surface, we will repaint and coat your roof with your chosen colours. You will be delighted with the result, and you have a warranty for the next 10 years!
---
Why Choose Empire Roofing For Your Roofing Painting Sydney Service?
Empire Roofing is here to help you paint your roof to achieve a durable and cost-effective finish. We are here to provide the best advice that 10 years in the roofing industry can give you as a client. The expert team at Empire Roofing are here to ensure that you get value for your money and the job is completed right the first time.
When Empire Roofing completes a roof painting job we provide a 10 year guarantee, we can complete painting on tiled, metal and Colorbond roofs. We use Dulux roof paint to give better protection from the harsh Australian conditions. Our roof specialists are here to help you pick the best Dulux colour that will fit in with the aesthetics of your home and bring an overall allegiance that only a freshly painted roof can bring to your home.
We take pride in each of our jobs and prepare every roof meticulously before painting. Backed by our experience, we select the finest and most durable paints so that your roof gains an immaculate finish. Whether you're preparing your home for sale, or would simply like to give it a facelift, the team at Empire Roofing have what you need.
---
Contact Us For A Free Inspection & Quote
Contact our experts at Empire Roofing for a free roof inspection, price quotation and reliable assessment. We will advise you on the best course of action for your unique situation.
At Empire Roofing, we hold ourselves to the highest standards. We adhere to the strictest Australian health and safety procedures and have all the necessary licenses and insurances for all your roofing requirements. We ensure client satisfaction with every job, big or small.
To schedule an appointment for our roof painting Sydney call us on 0414 854 307 or complete our quick online form.