---
Professional & Affordable Roof Cleaning Box Hill Services
Protect your most valuable asset from the harsh elements with a professional and affordable roof cleaning Box Hill service from our experts at Empire Roofing.
Through our roof cleaning Box Hill we will breathe new life into your home. A dirty roof not only looks bad but also deteriorates the condition of your roof which most often leads to costly future repairs. Our professional high pressure cleaning removes dirt, algae, moss and lichen to prolong tile life and brings the roof up to scratch to compliment the home.
At Empire Roofing we are a renowned professional roof cleaning company offering services like high pressure roof cleaning, tile roof cleaning and chemical roof cleaning. We help not just to clean but also to maintain your roof for the long-term. We never treat any task as big or small, each task is equally important for us.
---
When Do You Need A Roof Cleaning Service?
Roof Cleaning can be an extremely effective way to transform the street appeal and aesthetic of your house. Box Hill home owners will realise just how much success they will have by taking this simple option.
The incredible new look that results from expert high quality roof or tile cleaning is quite a convincing argument to householders to choose this option as a cheaper alternative to a complete replacement of their roof.
In addition to which, when you maintain your roof, you can easily prevent the need for a replacement, maintain the "new quality" look and prevent further costly repairs in the future.
---
Our Roof Cleaning Box Hill Process
During the process of our roof cleaning service we are solving any ongoing problematic issues for your roof. Most of the time customers have an ongoing problem of lichen and moss which is particularly prevalent on one side of the building.
Outbreaks like these can destroy the aesthetic of your house and once the outbreak has set in, they will continuously worsen. Also, the roof becomes dirty just from atmospheric particles settling on them. However the more disturbing factor is the continued growth of algae and the like.
Of course the result is a series of stains which spreads all over the roof space and continues on down the outside of your blockwork and into other various nooks and crannies. This will eventually degrade and damage your roofing materials and require further costly maintenance in the future.
Through the use of high pressure cleaning and chemical treatments we will be able to combat any issues you may have. The cleaning process of the roof and gutters also give our expert roofers a clear view of damaged areas which can then be repaired. The water will also allow us to observe leaks to be marked for repair.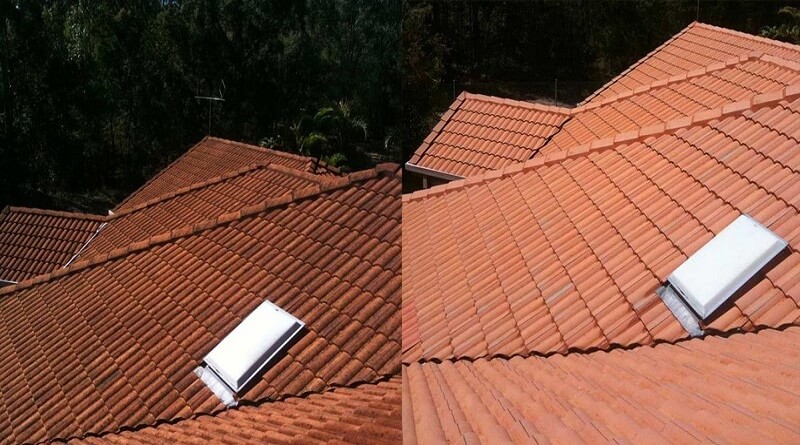 ---
Chemical Roof Cleaning Box Hill
In order to treat lichen and moss outbreaks, there are a number of options available to our cleaning experts.
In the first phase of cleaning we use chemical applications to target those organisms. The use of these chemicals will help to permanently destroy these organisms and will have a noticeable effect on the appearance of the roof.
However, you must be careful when employing some chemicals as a cleansing agent as it is not always suited to every roof material. Ideally the use of eco-friendly treatments is preferable including biodegradable products for the waste component.
---
High-Pressure Roof Cleaning Box Hill
When it comes to cleaning tiles, particularly hard tiles like ceramics a form of high pressure water cleaning is utilised. It is a quick and easy way to remove all dirt and growth from the surface of your roof.
This can achieve great looking results with minimal outlay of effort. A high-pressure roof clean can add tremendous value to your property and can be a terrific investment before a sale. On the other hand, some types of roof surfaces may be susceptible to high pressure jets as it's quite powerful and can lead to damage to your roof.
---
Roof Maintenance Box Hill
Maintenance cleaning to remove mould and grime on a regular basis will not only leave your home looking the best in the street, it will also save you on costly repairs for years to come. The long term effects of not maintaining your roof will end up costing you in the long run.
We can also clean and maintain your gutters and perform general roof work such as debris clearing you may not want to do yourself. Clearing a roof of leaf and other flammable material can help protect your home during fire seasons. For properties with many large trees we recommend clearing your gutters at least once every couple of months, a service we are happy to offer you.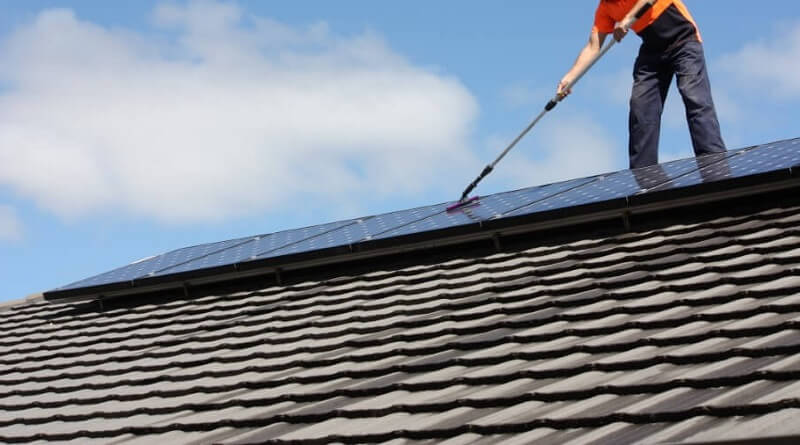 ---
Why Choose Empire Roofing For Your Roof Cleaning Box Hill?
One, two or three storeys - sit back, relax and let Empire Roofing fully trained and insured staff complete your roof clean, utilising the latest machinery and safety equipment. With years of experience working and cleaning roofs you'll rest easy knowing the job is being done right.
We make sure that you get what you pay for. We price our roof cleaning Box Hill services in an optimum manner which suit the budget of all our customers. We also offer a price estimate before we start so that you know the money that will be spent. We intend to keep the customers informed so that they can make better decisions. We offer some of the most competitive roof cleaning prices in Box Hill.
Whether it is residential, commercial or emergency roof cleaning Box Hill, we can help you in all. Having worked with hundreds of individual and corporate clients, we know the best way to offer top-notch roof cleaning services to you. Our roof pressure cleaning experts are always on time and take the effort to fulfil your needs. We are courteous and always ready to listen. We like to listen to customer queries and make sure that your questions are answered.
If you are confused as to what type of roof cleaning you should opt in, we can help you. There is a different way to tackle each issue. We will recommend the best solution for your unique situation.
---
Contact Us For A Free Inspection & Quote
Contact our experts at Empire Roofing for a free roof inspection, price quotation and reliable assessment. We will advise you on the best course of action for your unique situation.
At Empire Roofing, we hold ourselves to the highest standards. We adhere to the strictest Australian health and safety procedures and have all the necessary licenses and insurances for all your roofing requirements. We ensure client satisfaction with every job, big or small.
To schedule an appointment for our roof cleaning Box Hill call us on 0414 854 307 or complete our quick online form.